we went to crown center the other day to check out the
clifford exhibit
. it's really cute, especially if your kids watch the show daily. what? i mean... not my kids...we're doing educational activites ALL DAY LONG. ha.
anyway, i found myself saying all the character names and pretending like i was on 'birdwell island', while my husband was looking at me with a wierd expression...like,
who is emily elizabeth?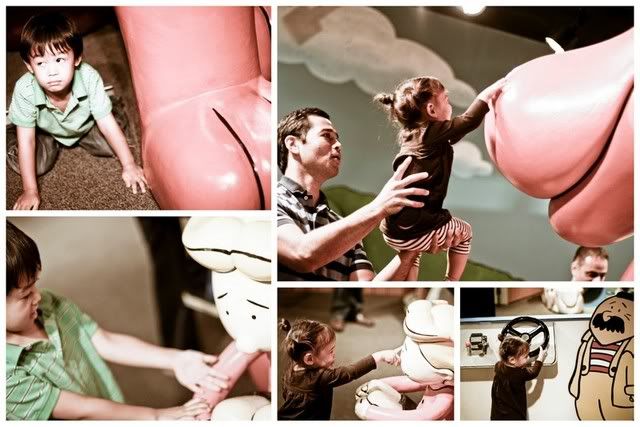 so this is a free exhibit to tromp around in. don't go on saturday's or clifford will eat you. not really, but you'll want him to after you see how crowded it gets on that day.
also, there is a dinosaur exhibit going on at union station(connected to crown center)...and although that costs money, there are lots of big dinosaurs around promoting the event that the kids can stare at for free. fun...or scary...if you're my son.
also, our favorite date night activity is coming up. free
friday night flicks
on the crown center lawn! this is fun...you sit on the lawn, pack a picnic, and watch a movie on a ginormous screen. take my word for it, this is worth going to. and it's a free date night. hello.
here is the schej:
July 2- "Pretty in Pink" (1986)
July 9- "Jurassic Park" (1993)
July 16- "Hairspray" (2007)
July 23- "Julie & Julia" (2009)
July 30- "Groundhog Day" (1993)
August 6- "Ocean's Eleven" (2001)
August 13- "Harry Potter and the Sorcerer's Stone" (2001)
you can also have them email or text you when events are coming up... i like this, as i forget most things of any importance.